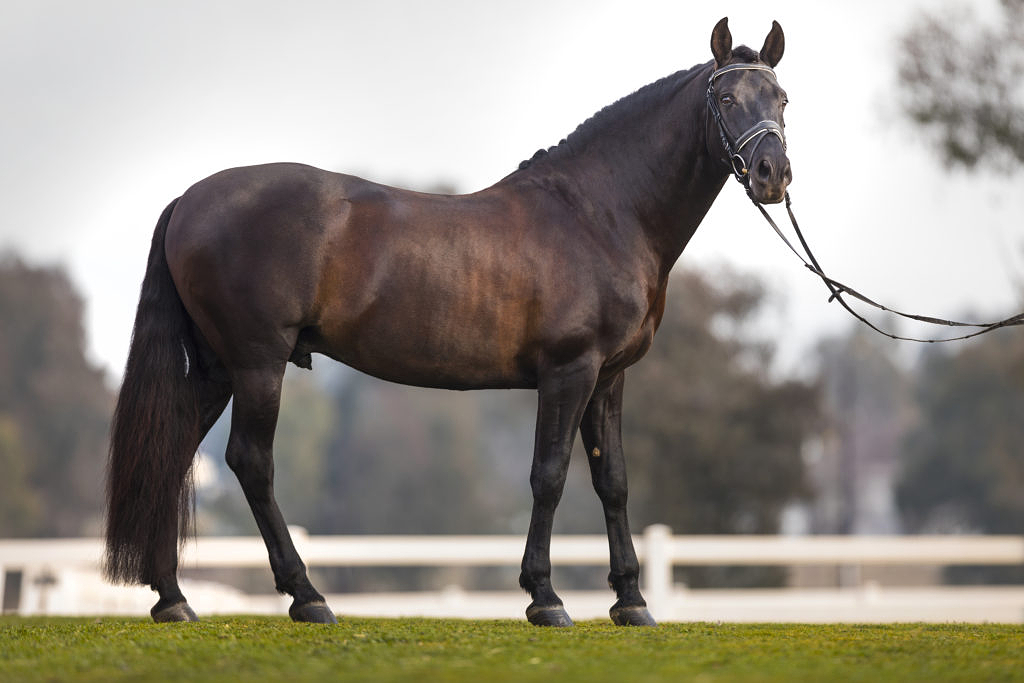 ---
MAXIMO JCG
---
An especially charming and harmonious stallion with three superior basic gaits, Maximo is a champion from top to toe. Excelling in all areas (type, charisma, interior, and movement), he represents the best in a modern dressage PRE horse.
Feudal VIII is one of the many outstanding stallions in Maximo's bloodline. Feudal VIII was imported from Spain by Glenn and Sharon Hittner of Blue Moon Ranch. The stallion had already begun his breeding career in Spain before coming to the US. Feudal's outstanding temperament, work ethic, and athleticism are second to none and he passes on these exceptional traits and qualities to his foals.
Exceptionally valuable for breeding and sports, Maximo's pedigree speaks for itself!
---
ACHIVEMENTS
---
Even at his young age, Maximo has already successfully proven himself in dressage competitions:
2014 - CDS All breed award for showing in hand as a 3 Year old colt
2015 - Successfully competed and won Training Level classes
2015 - Qualified and competed at the Adequan/USDF and CDS Regional Championships. Results in the 4 year old devision with scores in the high 60%
2016 - Successfully competed and won First Level
2017 - Successfully competed at third level and the FEI 6 year old test with scores up to 77%.
2017 - Competed at the Adequan/USDF and CDS Regional Championships in the 6 year old Futurity devision and earned the 7th place.
2017 - USPRE COPA Champion for the FEI 6 Year Old Devision with an average score of 7.368.
2017 - Qualified for the COPA ANNCE Finals at SICBA in Spain.
---
COMPETITION RESULTS
---
2017
| | | |
| --- | --- | --- |
| Dressage at the Gaits 4/22- USDF 6 year old test | 76.0% | 1st place |
| Dressage at the Gaits 4/23-USDF 6 year old test | 77.8% | 1st place |
| Dressage at the Gaits 4/23-USDF Third Level | 66.2% | 1st place |
| Starr Vaughn EC 5/12-USDF 6 year old test | 69.0% | 1st place |
| Osierlea Dressage 6/24-USDF 6 year old test | 75.9% | 1st place |
| Osierlea Dressage 6/25-USDF 6 year old test | 77.0% | 1st place |
2016
| | | |
| --- | --- | --- |
| Dressage at the Gaits 6/4 - First Level | 69.3% | 1st place |
| Dressage Derby 5/28 - First Level | 67.8% | 1st place |
| Dressage Derby 5/29 - First Level | 68.5% | 2nd place |
2015
| | | |
| --- | --- | --- |
| Golden State Classic 5/11-USDF 4 year old test | 67.8% | 1st place |
2014
| | | |
| --- | --- | --- |
| CDS All Breed Awards - 3 year old colt, showing in hand | 66.8% | 1st place |