About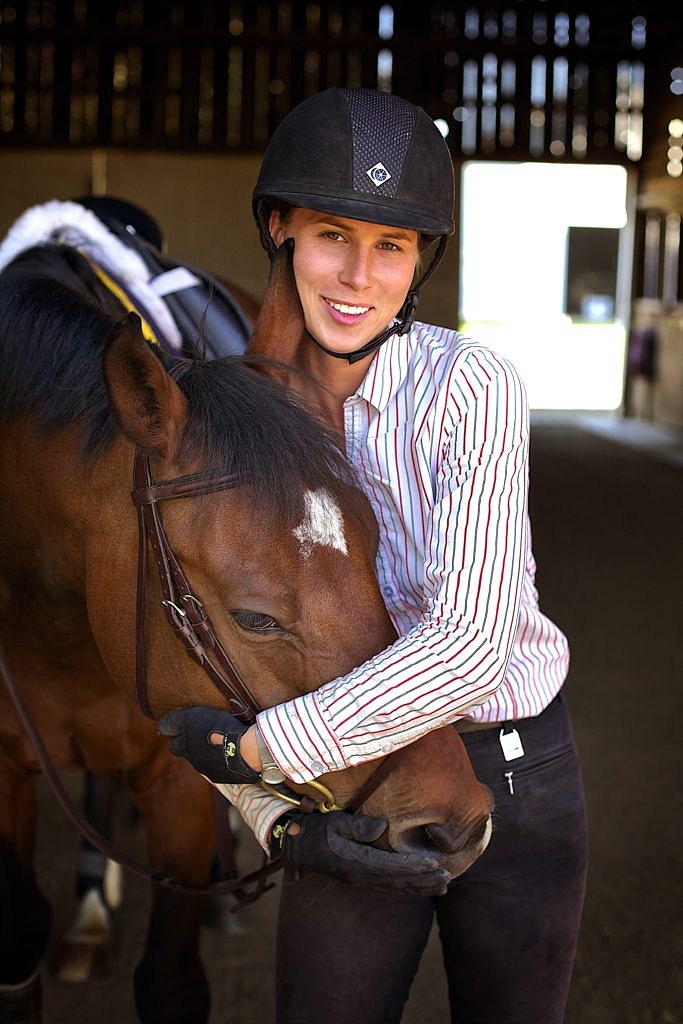 ---
ABOUT KRISTIN
---
Kristin Mills is a FEI (Federation Equestrian International or International Federation for Equestrian Sports) competition dressage rider from Germany who is now based in Sacramento, CA. Competing internationally in Europe and the US, Kristin holds Bronze and Silver Medals from the Deutsche Reiterliche Vereinigung (FN) and Bronze, Silver, and Gold Medals from the United States Dressage Federation (USDF)
Kristin started riding at the early age of three. She began competing in dressage shows in Hamburg, Germany at the age of seven, and by 18 had decided to pursue riding not only as a sport but as her profession. For 5 years, Kristin apprenticed under the mentorship of Juergen Boekmann, a well-known dressage trainer and judge in Schenefeld, Germany, where she focused her education on classical German riding principles promoting harmony between horse and rider.  This formal apprenticeship included didactic, classroom education on equine anatomy, nutrition, health management, and husbandry, as well as intensive experiential practicums riding an average of 8 horses per day, preparing sale horses for potential buyers, training competition horses for shows, and competed these horses throughout the year.
In 2006, at the age of 23, Kristin attended the prestigious Nordrhein Weatfaelischen Landgestuet Warendorf where she sat for and passed the two-day long German Bereiterpruefung examination, earning her the title "Bereiter FN" and state licensure as both dressage and jumping instructor.
In 2008, Kristin moved to California and founded Kristin Mills Dressage.  Kristin trains a select number of dedicated students and their horses and continues to compete at the regional and international levels.
---
MY PHILOSOPHY
---
Harmony between horse and rider is foundational! Kristin's specialty is in helping riders not only improve skills, but build lasting "riding teams" with their prized horses.
"The principle of harmony precedes the principle of performance"
by Peter Kreinberg, 2008
Dressage doesn't mean "to train" a horse. It is not about conditioning a horse so that you can press a button and he performs as many difficult exercises as possible, or jumps high fences. The purpose of training is to strengthen a horse physically and mentally through systematic gymnastics so that he develops according to his aptitude to be able to fully unfold his potential.
Kristin can help you to:
improve positioning and balance for the rider to be able to "dance" with the horse in harmony
increase effective use and understanding of "aids", to help the rider communicate with their horse more effective
condition a more supple, responsive horse so that the rider can influence the horse with small and light rein, leg and seat aids.
prepare for confidence in competitions to achieve higher scores and competitive goals that the rider might have
improve the relationship between horse and rider, so that the rider feels safe and comfortable on their horse
succeed in the competitive show environment to reach your goals and dreams with your partner horse as a team!
"Kristin hits all the marks. She is encouraging, humble, professional, and patient with both her horses and students. I am so grateful for all she has done to improve my riding, my confidence, and my horses." – Julie S.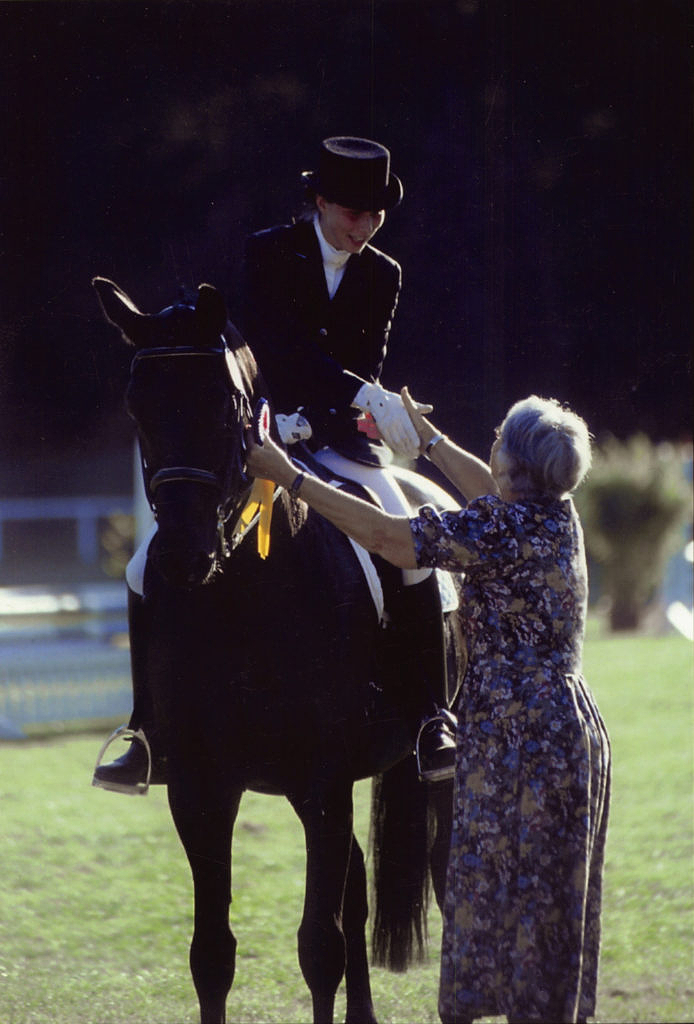 ---
Kristin began riding horses at age 3, competing in dressage at age 14, and riding professionally at the age of 21. In the photo, the Judge congratulates Kristin for winning a third level class on Scaramouche.
---
TIMELINE
---
2018
USDF Gold Medalist
USPRE (United States PRE) Team rider
2017
Seventh place at Regional Championship in the 6 year old Futurity class
FHANA (Friesian Horse Association of North America) Dressage Performance Award Winner
COPA USPRE winner for the FEI 6 Year old horse devision
2016
Completed USDF "L" judging program (P1)
2011
2008
2007
2006
2004
2003
---
RESULTS FROM U.S. & GERMANY
---
---
Testimonials
---
"Kristin is a kind, outstanding horsewoman I feel very honored to work with.  I'm an amateur adult who has ridden for years and acquired some bad habits along the way. I appreciate how Kristin has been patient and understanding with me as I have struggled to gain my confidence back.  Under Kristin's training and guidance, my gelding, Fino, has gained an enormous amount of strength and self-carriage.  In a short amount of time, Fino went from being barely able to hold a canter for a 20-meter circle to having a canter that is strong, straight, and stunning!" – Michelle R. (client)
"Kristin creates an atmosphere of lightness and harmony that has allowed my darling Samba and I to succeed.  I'm happy with the progress Samba has made in these few short months, and appreciate how Kristin's positivity makes training enjoyable for both riders and their horses." – Pamela C. (client)
"Kristin considers the horse first and foremost. I have seen the horses she rides move freely and swing from behind without any restrictions. They are truly happy and a joy to watch. Kristin has a true feel for the natural movement of each horse and will allow your horse to shine it's brightest with the least amount of stress." – Sue R. (Equine Massage Therapist since 2000)